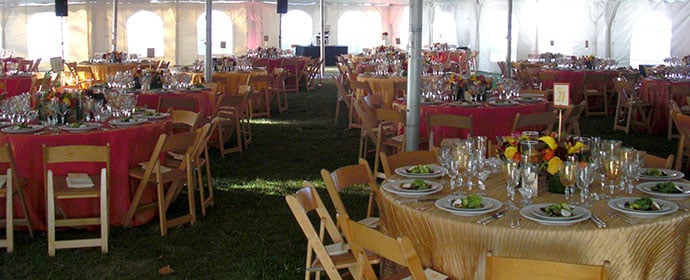 Planning is the key to the success of any event.All those planning to host a social event can find a range of event décor ideas whether it's a trade show, retirement party, a golf outing, a sales meeting or annual holiday party. Most of the corporate events are organized to recognize accomplishments or to celebrate milestones. The professional event planner's plan themed events to set a perfect tone. There are different types of events that can be planned depending upon the budget.
Company Excursions
Company excursions help to bring employees together to celebrate a day full of fun. These days, some of the companies consider to rent amusement parks or choose any location as venue and make best arrangements with corporate tents. The food can be arranged with buffet and bar service depending on the budget of the event. Popular food choices include barbeque, hamburgers, corn on the cob, hot dogs. Special arrangement takes place for different types of gaming and other activities like paddle boating, sack races, egg tosses and water balloon wars.
Golf Retreat
Many organizations give reward to the successful teams and employees with golf retreats. Make sure to plan a golf retreat that fits into your budget. In case you have limited budget, then plan your event at a golf course. Some of the companies arrange for food with best cutlery rentals along with special themed invitations, company signage, contests and prizes.
Mediterranean Party
The use of best rental services helps to celebrate achievements and other occasions in the most memorable way. The Mediterranean party events can be very elaborate with special arrangements for food, cocktail and music. The party planners use fresh flowers, plants, sand, striped changing tents, staging and dance floor to match the theme. Food arrangements can be made in buffet style with huge variety of Mediterranean favorites like olives, cheeses, tapas as appetizers. Music incorporates a perfect mix of best numbers.
Casino-Themed Party
Another interesting and entertaining idea is to arrange for casino-themed parties at holiday time. Casino parties seem to be a great idea for large gatherings. Most of the companies distribute fake money, set up round tables or gaming tables, hire dealers for gaming arrangements. The employees can trade with their winning chips to collect a prize at the end of the party.
Awards Banquet
A good way to appreciate employees and recognize high achievers can be to go for awards ceremony. Any type of corporate event can be arranged in a banquet hall or corporate tents can be used along with buffet and bar service. Always try to keep employees engaged with special arrangements of entertainment. The use of staging and dance floor can be good idea in case you're planning celebration of retiring team members.
Hundreds of corporate events are held every year in a city. An event planner must bring interesting event décor ideas to differentiate your company's event from the other events.