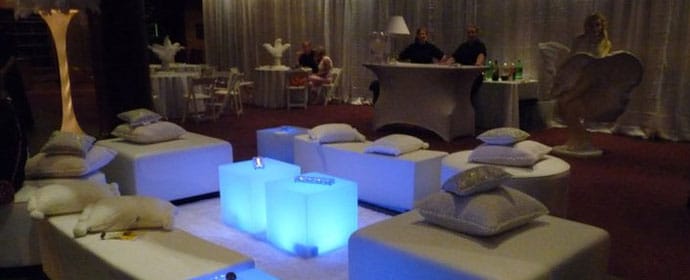 Parties give a great opportunity to celebrate happiness and success with love ones. When it comes to organizing a party, there are plenty of things which require to be managed. Whatever kind of party it is, with proper planning and right efforts you can make it an unforgettable event.
Making party arrangements
To ensure the party you host is enjoyed by each and every guest, you will have to make proper arrangements. Plan ahead about guest list, venue, decoration, menu, catering and of course seating arrangement. The party table and chair rental is an easy option for making guest seated comfortably. However, nowadays luxury lounge furniture is also available on rent. The good furniture can adorn the party decoration and offer lavish seating arrangement that not only look good but also provide comfortable seating facility.
Lounge Furniture Rentals suitable for every event
Lounge furniture is apt for wedding reception, birthday parties, corporate event or any other such special occasion. The high quality party lounge furniture can suit every venue and party theme. The custom-build and crafted furniture can become highlight of party decoration. With the help of lounge furniture rental, any outdoor venue can become comfy and beautiful party destination.
The lounge furniture rentals give you an ultimate option to create a comfortable seating area and a relaxed ambiance for your party guests to take sheer pleasure of your party. These modern party accessories can leave a unique and memorable impression of your party on your guests. The typical party furniture available on rent are- sofas, benches, armchairs, LED furniture etc. Above all, you will get choices in color, design and size, so that you can opt for furniture which goes with your party theme and decoration.
Renting the lounge furniture is not a new thing these days. You might have also seen these striking rental items in the parties you have attend. The lounge furniture are just one phone call away from your event, yes you can get these furniture setup at your party venue by just making a call to the best party rental service provider near you.
Transform your party into an unforgettable experience with modern lounge furniture!