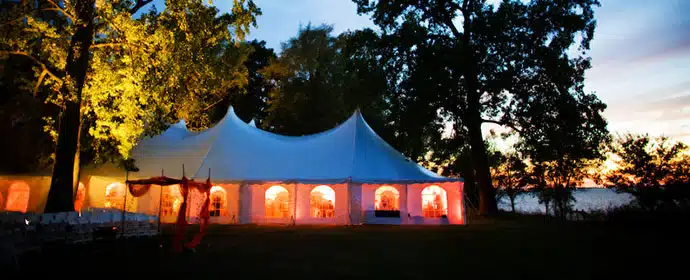 Many couples have desire to organize an outdoor wedding reception. After all outdoor wedding reception is absolutely ideal for outdoor location enthusiast. What will be more beautiful than celebrating wedding nuptials under blue sky, in front of lake water and the natural greenery of plants?
Adorn your wedding reception venue with luxury party tents
The thing which is going to make your outdoor wedding venue perfect is wedding tent. Yes, you just cannot throw an open air wedding party without a canopy. Just imagine, if weather goes wrong, your party guests will be left standing in the raucous wind or pelting rain! Don't you think this is not a part of your fairytale wedding reception party? It is a nightmare instead. In order to host a successful wedding reception, you need a full proof planning. The first thing which you are required to include in your wedding planning checklist is wedding tent.
Nowadays, party rental companies are offering a wide variety of wedding tent rentals. These tents are capable of transforming any ordinary venue into a beautiful wedding reception site. You can even opt for water proof wedding tent so that weather changes will not create hurdle in your wedding celebrations.
Why should you opt for Wedding Tent Rentals?
Organizing an outdoor wedding is itself a grand affair. You have to do lots of preparation and spend money on plenty of things. It will be a smart decision of yours if you opt for tent rentals. For this purpose, you have to contact a party rental company. These companies have plenty of varieties available in wedding tents. From luxury tent to budget tent they have all. You can select one or more than one for your outdoor wedding. These tents will adorn your wedding venue like a palace, which you have seen in Disney fairytale movies.
Why just tents, you can even opt for decoration rentals, lighting rentals, china dish rentals, cutlery rentals, table and chair rentals. The party rental service provider can deliver rental stuff at your party destination. So, you do not have to worry at all regarding the transportation of rental items.