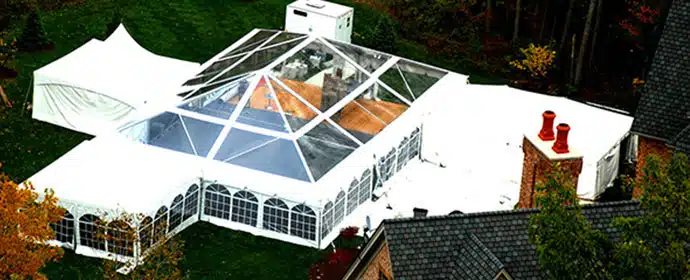 Outdoor weddings
Outdoor weddings if at one time are quite wonderful but at the same time, it may become a disastrous affair. It is one of the major reasons why couples have now started to arrange the party events at the backyard of their home.
When you are going to plan for the backyard wedding, tent is must. Renting a wedding tent renders you the protection against rain or any other adverse weather conditions. Moreover, it also put you closer for achieving the fine decoration for the wedding night.
There are some prominent tent styles that you can pick from,
Push-Pole Tents: These tents are one of the most prominent tent styles. These types of tents are quite cost-effective. It proves an excellent tent for light weather conditions. It has ceilings that go to each pole of the tent.
Frame Tents: Frame tents are pricey, when you compare it with push pole tents. These tents do not need clearance surrounding the tent and therefore ideal with tight spots.
Tension Tents: Tension tents are wind-resistant and more stable against the unfavorable weather conditions. It has the steep slopes and fewer interior poles provide more space inside the tent.
Irrespective to the type/ style of tent, it should have the wide space to avoid any unease in organizing the wedding event. It is wise to consider a tent that can accommodate everyone including catering, entertainment and other things.
You should consider all aspects before arranging a backyard wedding. You also can hire a professional tent rental company that can assist you to have the grand wedding reception.
Most of the rental companies firstly go for the on-site survey that help further in identifying the exact size or style of the tent seems appropriate. The tent rental company also helps to decide upon the location at your backyard.
Inside the House Wedding Party
Now, if you are thinking over to have inside the house wedding party, there are several aspects that you may consider to make the grand wedding reception.
Estimating the approximate number of guests that can make the presence in your events is quite necessary for fool proof planning of wedding event.
You can hire a professional wedding planner who can assist you in making all the arrangements for a magnificent wedding in a cost-effective manner. A wedding planner could help you to get all the things in a well planned manner.
Rentals such as chairs, tables, Glassware, plates, silverware, linens – list goes on, all are expensive. It is essential to consider in which quantity you really need so that it must not be ordered too much that these are required. Hiring a reputable party rental companies is also essential.
Décor is an indispensable and you require it to achieve the grand look of your wedding reception. Flowering rose garden, floating candles in a pool or manicured lawns that you all need to have the elegant look at the wedding night.
Hiring a professional wedding planner can help you to get the fine décor on eve of your wedding.
Caterer, lighting and band need interrupted electricity. You must make the alternate arrangement for reliable power source such as generators.