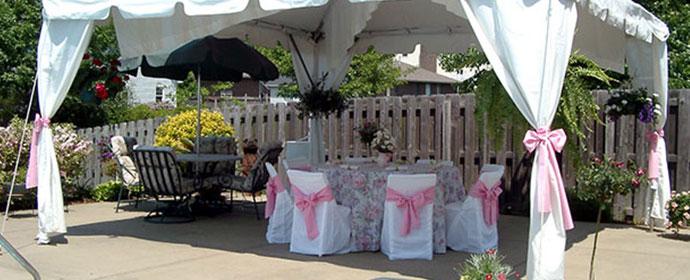 You need chairs for your wedding. The easiest way of getting them is renting them from your local chair rentals. When renting the wedding chairs you need to consider a number of factors including:
Wedding theme
Your choice should be informed by the wedding theme. If having an elegant themed wedding go for elegant wedding chairs. If having a beach wedding go with simple folding chairs. While you are at it, also consider the wedding color. If the wedding color is white, rent white wedding chairs.
Event duration
How long do you expect the event to last? If you expect the church minister to come and bless the event and the event ends, you shouldn't go through the trouble of renting high-end chairs. Simple wooden chairs are enough for the event.
On the other hand if you expect the event to last for hours, make the guests comfortable by renting seats with padded seat cushion and chair back.
If renting the chairs for the reception area, you shouldn't spend much of your money on them as the guests will most likely be dancing and mingling and not sitting. Go for simple chairs that fit the wedding theme.
Stability
Since the rental chairs are used by many people and are constantly moved from one place to another, it's common to find most of them unstable and uncomfortable. This is common if the party rental company doesn't take proper care of its chairs.
For safety and avoid being asked to compensate for broken chairs, ensure that all the chairs you rent are in perfect condition. This calls for you to individually test the chairs before hiring them.
If you expect guests with physical disabilities to attend the event, get a few special chairs for them.
Chair covers
Chair covers not only protect the chairs, they also function as beautiful, cheap chair decorations. When renting the chairs ask the rental company whether it has the coverings. Most of the companies will have the coverings. The coverings are made from different fabrics. It's up to you to choose the one that is right for you.
Conclusion
These are the factors that you should consider when renting wedding chairs from party rentals. To rent the right units for your event you shouldn't be in a hurry. Rental experts recommend that you start looking for the party supplies at least two months before the big day.