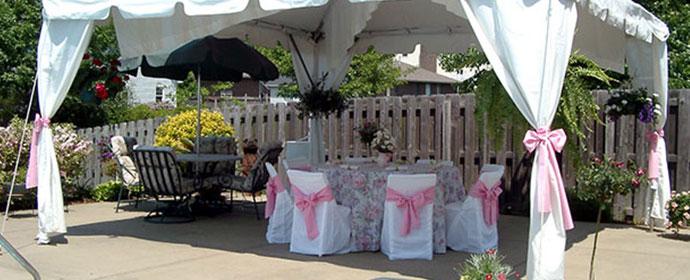 For your wedding to be elegant you have to decorate it. For you to pull off a great look you need to consider plenty of factors such as:
The wedding location
Are you having an outdoor or indoor wedding? The wedding location greatly determines the decorations that you should use. If you are having an outdoor wedding keep the wedding décor to a minimum as nature has already provided plenty of things to marvel at. All you have to do is rent the wedding chairs and tables from party rentals and then supplement the nature with light complementing colors. If you are having the wedding by the lake or beach you should use light, napkins, drapes, or free flowing material.
Candles have been shown to be very effective in giving wedding venues an elegant look especially at night. For a great look use soft and pale candle colors. Great colors to consider are: pale yellow, white and bluish pink.
If you are having an indoor wedding, use plenty of decorations. Great materials to use in decorating your wedding include: flowers, tablecloths, candles, torches and any other material. As rule of thumb ensure that the material you use compliments the wedding theme.
Consider the latest event décor trends
If you are unsure of the wedding theme or decorations that you should use, get ideas from fashion and wedding magazines. Once you have identified a theme you should stick to it. There are some people that feel that using many themes makes the wedding look unique, but this isn't the case. Too many themes make the event look too busy thus giving an ugly look.
Take hints from the wedding season
It's common for people to run out of event décor ideas. If this is the case with you, get hints from the season that you are doing the wedding. If having a winter wedding you can use a snowflake theme where you use plenty of white. If having a spring wedding, use plenty of greens and flowers.
Conclusion
These are the factors that you should consider when decorating your wedding venue. Your budget is of great importance when decorating the venue. You should note that having a tight budget doesn't mean that you should have a scruffy wedding.  To lower your costs, you should visit different party rental companies and settle on the company renting high quality party supplies at a low price.