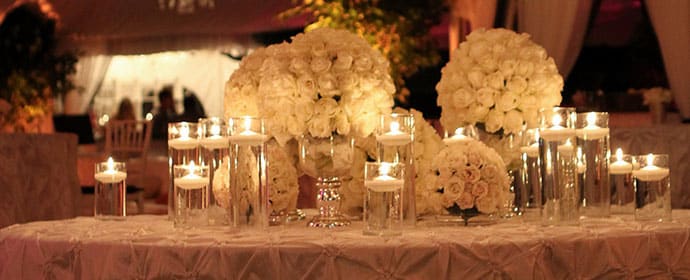 A buffet table describes a piece of furniture used to serve food to the guests so that they can choose food and beverages freely. Buffet and bar service are perfect for all types of parties and business gatherings. There are huge variety of designs and styles of buffet table. Such a table is greatly functional and gives freedom to serve your food in a spectacular way. They are the most convenient way to feed larger gatherings when you haven't got a palace-sized dining table. Make sure to get all serving pieces rentals and place them properly to give easy access to guests and they feel comfortable.
Planning
Before figuring out as what utensils need to be set out, decide the menu. A taco buffet needs serving pieces for condiments as well ingredients while other range of food items need spoons, forks and knives. It's better to make a list of every item you need to serve and decide the requirement for caterers equipment rentals.
Arrangements
To set a perfect table, make sure to set the service and chafing dishes at the end of the buffet at a distance from the plates so that guests can take them easily. Get cutlery rentals and keep like items together like all forks together, spoons with spoons and knives with knives. However, ensure to show your artfulness and deliberation rather then just making a pile randomly.
Serving Pieces
Getting serving pieces rentals is not just enough and all the utensils should be placed near to the appropriate dish so that diners do not use their own utensils. Ladles are best to serve soups, gravies and stews. Put out slotted spoons for sauce-heavy dishes and ensure that your guests are trying all sauces. Tongs work best to serve long pasta.
Table Linens
Choose colors that complement the décor of the venue. Use colorful centerpieces and linen and décor for weddings. Try to add shades of pink, red or forest green in addition to black and white to make a perfect fit in any party theme. Dress each table with table skirts to hide the legs of the table. The most recommended fabric choices constitute linen and cotton but lighter polyester blends also works best.
Napkin Rolls
Follow your favorite restaurant technique by and lay napkin on a clean and flat surface and fold it in quarter to form a square and keep all the serving and china rentals diagonally across the folded napkin in the same way with their top edges just at the top point of the square.