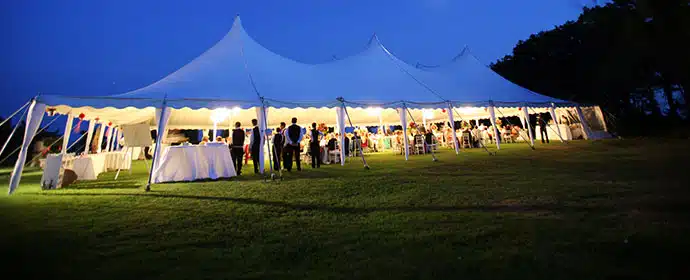 A corporate party must be planned in such a way to make it memorable for everyone. There are various types of themes ranging from a cowboy party, ladies tournaments, beer festival etc.. Theme parties offer a chance to get creative in every aspect and give a festive ambience to the venue with party tent rentals.
Invitation Cards
While designing invitation cards, always keep in mind the theme of the party and decide the dress codes, if any. The card can be a cutout of a palm tree to represent the theme "sun and sand" and you can go in this way for many more themes. The card must be able to create excitement among the guests for the event.
Food and Drink
The huge availability of finger foods helps people to move freely. Plan for a bar only if you are permitted to do so. In some cases, theme plays an important role to decide the menu , buffet and bar service. In outdoor parties, it is always better to have a barbeque. In beer festivals, don't forget to serve the best variety of meats and cheeses that go with Oktoberfest. Opt for service and chafing dishes rentals to offer the food and drinks.
Activities
The activities and entertainment options are essential and give a finishing touch to host a spectacular party for any corporate event. The different possibilities include gaming, contests and entertainers. All the guests always remember a corporate party with lots of entertainment options. Playing different types of games and arrangement of staging and dance floor also promotes team building. Even without planning any competitive events, some of the simple games oriented towards theme can be played to give the entire guest a good and memorable time in the party. Always choose from theme that brings an element of fun and leads to better communication among peer groups after the party as well. Make best arrangements for the games and quizzes within your budget depending upon the theme. Corporate people always enjoy music and dance and make sure to allocate a special area for the dance. Give all your staff members a cool party experience by choosing a location that create a vibe for the party that suit the theme. The choice of location helps to decide the music,decorations and other party supplies that all helps to contribute to the ambience. You can use corporate tents to make all types of arrangements in any location.