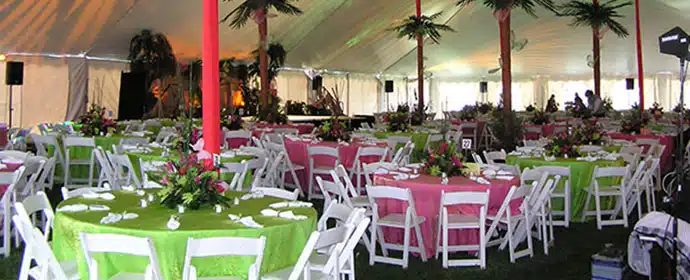 Whether inviting 20 or 200 people to any event, extra chairs and tables are must in any party. Party rentals provides an assortment of seats and tables to choose from. Firstly,make sure to determine the expected number of guests and then the type of tables best suited for the occasion and space availability. The best type of table for any party depends on the type of party you are planning. Many tables offer more than just function and acts as an element of design and decoration as well. What's more some of the tables suit all occasions and the look of the table can be changed by using linen and décor for weddings or other occasions.
Cocktail Tables
Cocktail tables are high tables and usually don't have chairs. Guests stand near the tables and the tables acts as resting places for drinks and snack plates so that everybody can mingle with each other. The facility of glass and stemware rentals offers range of glassware to add to the beauty of the table and make guests enjoy their drinks in unique collection.
Banquet Tables
To make a temporary seating arrangement, banquet tables are frequently used. These tables are available in different shapes and sizes. They can be arranged in various styles like lecture style shape, conference style, classroom style, hollow square and banquet style. The number of people who can sit around each table depends on the shape of table.Normally; the size of rectangular tables can be from 24 by 60 inches to 30 by 96 inches and round tables sizes ranges from 42 to 72 inches.
Buffet Table
Every party needs a buffet table to offer buffet and bar service. A buffet table is long in size as all food and drink are kept on this table. Every guest visit this table to take a plate and choose from the menu presented on the table. They are narrow in size and longer than conventional tables. The width of the table gives adequate space to serve two rows from the menu and offer the option to serve two food items along the length of the table.
Dinner Table
Plan your dinner party with dinner tables. This table can be used in various settings and guests can sit around the table to enjoy the dinner. The number of guests who can sit depends on the table size. A 48-inch table can accommodate seven to eight people while a 60-inch gives comfortable sitting to eight people. At large gatherings opt for an 8 by 30-inch table to give place to ten people.
So, choose the type of table you need for your celebration and determine the expected number of guests before calling local party rentals to book your requirement for table a chair rentals for wedding or any other occasion.