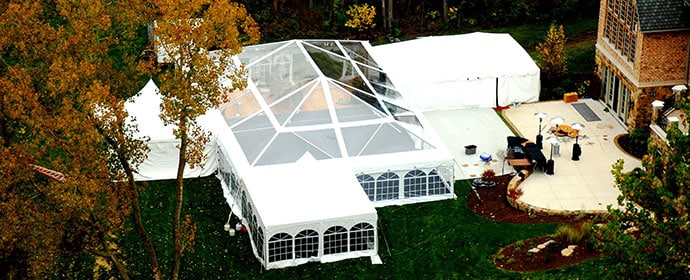 Tent makes it possible for people to gather, rejoice, and commemorate an outdoor event. A luxury tent can create a jaw-dropping statement.  Therefore, tent rental should be an important part of your party planning.
Make momentous occasions unforgettable with beautiful tents.
A beautiful tent can turn any location into a perfect venue for celebrations. Today, you can find a large variety of styles and sizes in tents, such as frame tents, century tents, canopy, tents with clear top etc. These tents can be customized to fit your space requirements and can be installed in small backyard to beach side party venue.
If your event is small, you can opt for frame tents. These tents can be as narrow as 10 feet. Frame tents are held by the pipe framework from the ceiling and pipes are covered with a fabric liner. In case, you are hosting a party at grand scale and have an extensive guest list, the pole or tension tent will be ideal choice for you. These tents allow accommodation of a large number of guests.  Also, if you are thinking about hosting an open air ceremony, then it will be a smart idea to reserve a party tent as a backup alternative. The backup tent will not let your ceremony spoiled by rain or sun.
Tent rentals: For birthday, wedding and corporate parties
The party rental or tent rental companies have big inventory to offer you tents for every occasion, including but not limited to wedding receptions, birthday parties, corporate events, funeral, and anniversaries. These companies have a special crew for creative installation of tents at diverse outdoor venues. Also, the friendly advice and cheerful attitude of staff members will help you in selecting a perfect tent for your event.
Many tent rental companies offer complete event rental services, providing everything which you require under a tent for your event: chairs, tables, linens, and curtains, in addition to lighting, flooring, heating or air-conditioning units, generators and even portable restrooms. This is why selecting right tent rental company is vital for hosting a successful party.
Have fun at outdoor parties in luxury tents!