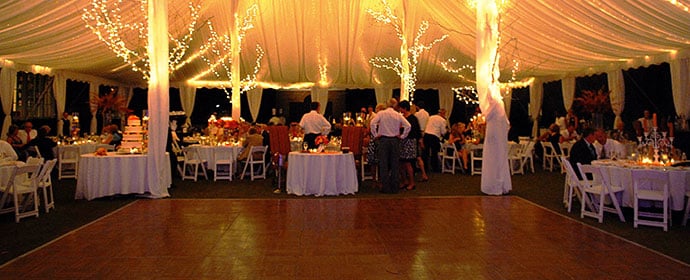 There's something about the wedding tents that just yell out "sophistication", don't you agree? There is nothing as cool as a wedding reception held under a tent. If you have decided to have an outdoor wedding, than the first thing you are required to do is- select a tent type for your big day.
Wedding reception tents rentals:
The tents are much more than being coverage. Selecting a wedding tent is obviously not an easy task as there are a number of options available to decide from. To assist you to solve your dilemma, here are a few most popular types of wedding tents that you can rent for your wedding reception.
Beautiful Wedding Reception Tents ideas
Below mentioned are a few beautiful wedding tent ideas that will bring' wow factor' to your wedding decoration:
Tents with the sides open: The tents with open sides are the most preferred wedding tents. These tents provide excellent shade during the daytime and use the natural light to beautify your big day. To rent these sides open tents for your wedding you can contact a party and tent rental company and get the tent installed at your wedding venue without any fuzz.
The open sky tents: The clear tents are gaining popularity day by day, especially for the venues having scenic beauty. You can rent these tents for your wedding if you are planning your wedding at a place having natural scenery. To add a royal touch to your wedding you can also go for the silver serving rental along with the open sky tent.
The full coverage tents: These tents are best if you are having a colorful wedding theme. The full coverage tents will protect your wedding venue from the sun and other climatic conditions and will help you to have a wonderful wedding. You can decorate this tent with the help of twinkling lights, lamps and sophisticated table and linen rentals.
The pole tents: These are the most simple and easy to install tents. If you are planning a simple wedding, then the pole tents are the best option you can go for.