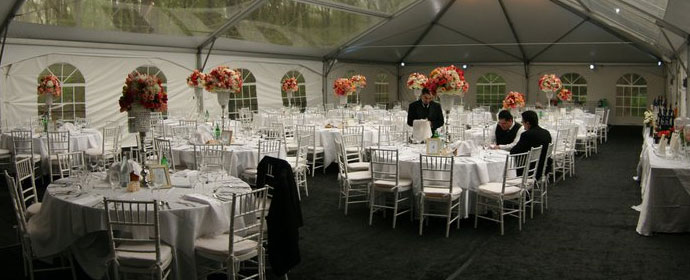 The aisle attracts a lot of attention from guests as this is the place where you will walk through when going to take your vows. Due to the attention that it attracts, it's important that you decorate it appropriately. To guide you, here are aisle decoration ideas that you should go with:
Runner
The runner leads from the foyer to the altar. You should decorate it using your names, quotes or your pictures. Whether you are doing the wedding indoors or outdoors you should have flower petals outlining the runner.
If the ground is damp or uneven, you should ask a wedding rental company to supply you with a rental dance floor. When you attach a row of dance floor sections together you will have a solid and dry walkway to lead you up the aisle.
Pews
You should decorate the ends of the pews. To do this you need to hang pew hangers on the end of each pew. Once everyone is seated, you should run tulle through the pew hangers from the back to the front.
If you don't want to create chaos while the ceremony is going on, you should hold the flowers or ribbon bows using pew hangers. You can drape the pew in white or any of your favorite colors.
Bows and ribbons
To decorate and prevent the guests from accidentally disturbing the flower petals or any other aisle decorations, you should attach bows to the side of the chairs that border the walkway. For a great look you should use bright white bows. If you are having an outdoor wedding you should use narrow ribbons and tie them to the back of the chair.
Carpet
Almost all weddings have carpets. You should cover the carpet with a white paper carpet. In addition to the paper carpet decorating the carpet, it also aids in protecting your expensive carpet.
Conclusion
The aisle is a very important area and you should give it your all when it comes to decoration. Whether you are doing an indoor or outdoor wedding you don't have to spend a lot of money on decorations. For example, you don't have to buy the ribbons—you can simply rent them from a rental company. The company will also provide you with wedding décor ideas that will give your wedding a perfect look.