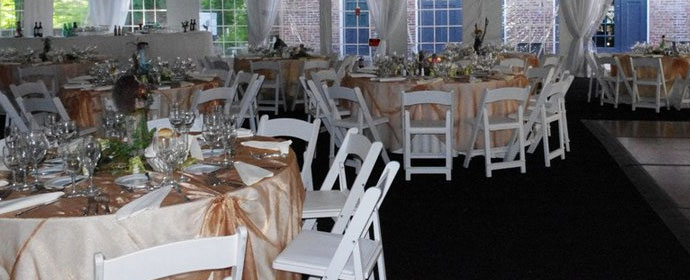 Did you know that not every chair you come across is ideal for your wedding? If you are planning a wedding here are wedding chairs that you should consider:
Banquet chairs
They are the traditional chairs that you see in hotels. They are halfway decent; however, if you want them to look great and appealing you should decorate them using ribbons, flowers, and chair covers.
Folding chairs
Folding chairs are made from different materials and come in different colors and sizes. The cool thing with them is that they are very economical to rent from a chair rental company; therefore, if you are operating on a tight budget these are the chairs to go for.
While they are economical, you should note that they aren't ideal for every wedding theme or venue. Wedding experts recommend them when you are doing your wedding in a casual venue. As rule of thumb you should never go for them if you are doing your wedding in an upscale venue.
If you find that the chairs don't complement your wedding theme, you should decorate them with ribbons, ties or any other items that you deem right.
Chiavari
They are the most common in wedding and are available in almost all wedding chair rental stores. They are characterized by an elegant design and padding that ensures that your guests are as comfortable as possible. When renting the chairs you should note that different rental companies use different names for them; therefore, always check the name used by your rental company.
Ghost
Just like Chiavari chairs, ghost chairs are very popular in wedding venues. They are loved for their unique, elegant look. While the chairs are great to look at, they are expensive. A quick survey shows that many stores rent the chairs at $50 per chair!
Chameleon
They are sleek and sexy to look at. They are mostly preferred when you are doing your wedding in an upscale venue. They are expensive, but if you can afford them, why not give them a try?
Conclusion
Just like the other parts of the wedding, the wedding chairs that you choose for your wedding are of great importance. To have an easy time you should work with a wedding chair rental company that not only rents the chairs, but also gives you advice on how to set and decorate the chairs.