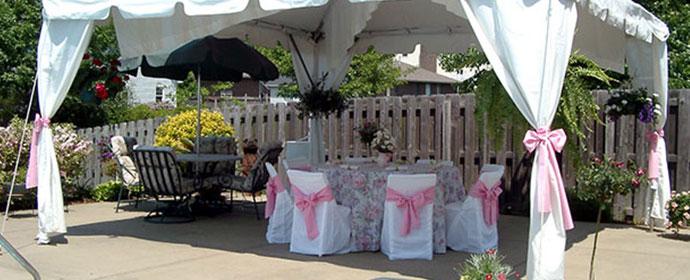 If you're planning to host your wedding or reception in your backyard then we have some great tips for you.
Elegant Backyard Wedding Ideas
Plan it:
Backyard weddings are great ways to save money on the venue space, although you must remember to consider several things before you commit to any idea. Do you have adequate space in your backyard for your wedding arrangements? Also, decide on the number of guests and what type of reception you would like to plan. Are you planning for a buffet and bar service? Each type of wedding reception can be planned in different capacities and talk to a rental company or catering company to get answers to your questions.
Theme it:
Whether you're planning for a simple backyard wedding or an elaborate and elegant wedding design, the theme helps to decide on aesthetic decisions for the venue. Every theme can be planned by using different flowers, centerpieces, linens, chairs, catering choices, photo frames and more.
Tent it:
Tenting is one of the biggest recommendations. The various choices of wedding tent rentals provides the much needed shelter and give protection from sun or light breeze. Party tents also give privacy and provide decorating opportunities. The uses of tent rentals are great for backyard weddings.
Dance floor it:
Can you imagine a backyard wedding reception without a dance floor? Staging and dance floor gives a perfect platform to enjoy. Think of all those women wearing high heels and those poor blades of grass growing to create a danger zone and plan to rent a dance floor for guests to use as an alternate to grassy backyard or even a patio or deck.
Light it up:
Another interesting idea is that light up the backyard with a few beautiful strands of lights. The best party rentals companies recommend using stringing lights throughout the tent ceiling and wrapping them around trees. Consider using Chinese lanterns and candles on chairs, trees, tables and other natural shrubs to add to the entire décor. Wedding lightning is worth the upgrade every time.
Rent it:
Rent table and chair rentals for wedding from a rental company to meet the need of seating arrangements. Explore some more event decor ideas and know with whom to talk to for the best styles available in your budget. When you use caterer's equipment rentals, you won't have to worry about anything related to the take-down or setup. Another important thing to consider is the temperature of the serving equipments. So, consider renting equipment with temperature control.