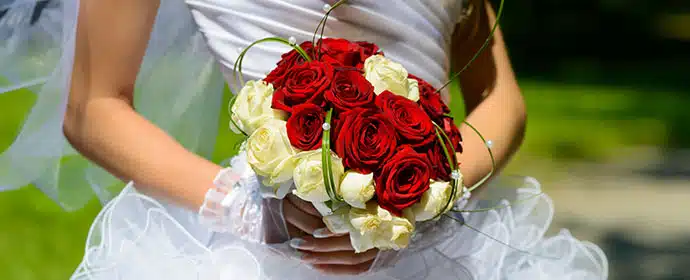 Weddings aren't just about getting married and they're also about showing off your style. Flowers are the easiest and dramatic way to perk up any area. Decorating the often overlooked small stuff-the pathway will transform your venue and make it even more special. The site influences the design decisions. So, take time to plan the setup of your wedding reception. Visit the venue and consider special features to highlight such as pathway, staircase or staging and dance floor. Then, make arrangement for other important elements like chairs and tables, buffet and bar service, place for DJ or band.
Entrance
During the initial walk in into the venue, keep a note of as what the guests see at the entrance as it's the first impression they'll get. Spruce up the entryway by framing it with colorful drapes or lights along the frame. Keep two tables at the entrance mentioning the details about name card and gift tables. Decorate tables with linen and décor for weddings , photographs of the couple and bouquet of flowers.
Buffet and Bar service
Buffet and bar service are integral for any wedding reception. Around 10 to 15 square feet of space per person should be allocated for round tables that can accommodate six to ten guests. This will help to figure out the table a chair rentals for wedding. Set up a bar in one corner and leave enough space to make movement easy for guests. If you have enough space and money for bartenders then add another bar to reduce the waiting time for guests. Serve a buffet to the side of the area, again leaving adequate space for a line. Keep the cake table near the staging and dance floor so that everyone can get a glimpse of it.
Staging and Dance floor
A right sized dance floor and enough space for the band seems to be essential part in all types of reception. Set up dance floor with about 4 to 5 square feet per guest. Plan to keep it at the front of the area in the center of the guest sitting arrangement. This increases the involvement by the guests.
Lighting
In addition to all the above given necessities, right lighting add spectacular ambiance to your wedding reception. Make outdoor pathways with twinkle lights or luminaria. The dance floor should have a bit dimmer light than the rest of the area. Placing a few moving colorful lights toward the floor and using production and staging rentals creates a perfect and enjoyable atmosphere.