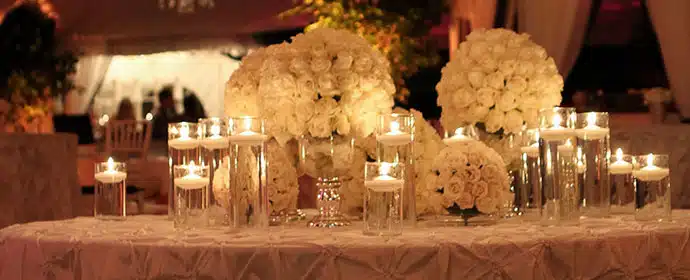 Caterers provide food for events such as weddings, corporate parties and other small or big functions. But unlike restaurants with luxury to prepare and serve at their own facility, caterers not only prepare food but transport it and present at the venue. This reason requires them to have a bevy of caterer's equipments with wide range of simple utensils to complex cooking and serving utensils and offer them as caterers equipment rentals. They can serve food to 500 people in a banquet hall or small box lunches to a small business meeting. Most of the caterers are ready to adapt to their clients' needs in different ways. They adjust for menus and offer equipments for party rentals.
Catering Tools and Equipment
Chafing Dishes
Caterers often prepare food offer utensils to keep food warm with service and chafing dishes rentals. These equipments run either on electricity or canned heat placed underneath the equipment. These dishes are available in round, rectangular and oval shapes.
Serving Trays
Caterers also use serving trays. These trays are available in range of material from plastic, stainless steel to rubber in various sizes. These trays are useful to serve guests all types of food.
Coffee Makers
The professional coffee makers help caterers to make and store dozen cups of coffee. These vending machines are portable enough to move from one place to another.
Allocate a budget for catering
It is wise to allocate a budget for catering and plan everything according to it. Catering costs sometimes break the bank in the absence of a good plan. So, ensure to set a realistic budget for your catering needs.
Figure out the source of funds to meet the catering budget. Get an accurate and timely estimate of head count. Most of the caterers price their services per person and an accurate estimate helps to know the amount that you should set aside. Find out well in time your need for other party supplies and what needs can be fulfilled by your caterer.
Make sure to read all the terms and conditions in your contract. Reception venues and wedding caterers sneak in charges for things that can escalate your budget like linen and décor for wedding, cutlery and cleanup.
Also, decide menu for buffet and bar service and how you would like to serve. A seated dinner costs more than a buffet service and check out the difference per person to make a decision.
Always allow room in your budget for alcohol as your guests might end up consuming more than your expectations. Also, inquire for any charges for corkage fee or whether they will provide a licensed bartender or not.