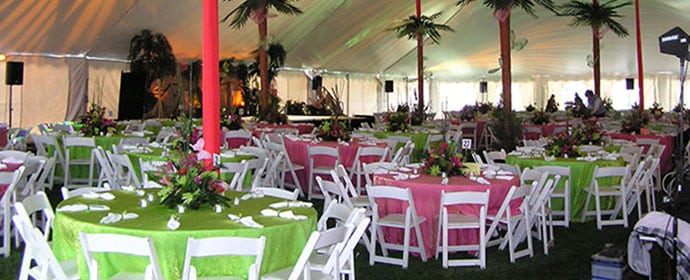 Party tables are important items in any party. In addition to providing the guests with a place to place their food during the party, they also function as important decoration items. Unlike before when there were no party rentals and you had to buy or borrow all the equipment you needed for the party including party tables, now you can easily rent all the items from the rental stores. For you to rent the right tables you need to consider a number of factors
Guide to renting party tables
Theme of the party: There are many party themes that you can go with. You can go with beach, formal, floral or any other theme that you like. For the table to be part of the event you need to ensure that it complements the look of the event. If you are having a beach theme, go with simple wooden tables. If having a formal event, go with round, elegant tables.
Size of the party venue: How large or small the party venue greatly determines the type of party tables that you should hire. If having a small party in a small area, go with small plastic or wooden tables. If you having your party in a large hall, go with large rectangular or circular tables. Even if you have a large venue, ensure that the tables aren't too large thus overwhelming the venue.
Type of table decorations: there are many ways of decorating party tables. You can use flowers or table clothes. If using flowers to decorate the tables it means that the table will be visible thus you have to rent elegant tables that will give a great impression. If on the other hand, you are decorating the tables using table covers, you don't have to spend plenty of money on the tables as they will be covered thus the party guests won't see them.
Party Chairs: You can't mention party tables without mentioning party chairs. The type of chairs that you use greatly determines the type of tables that you should go for. As rule of thumb, ensure that the height of the tables matches that of the chairs.
Conclusion
These are the factors to consider when renting party tables. To save money and time, rent all of you party items including tables, chairs and party tents from the same company. When choosing the rental company to hire from, ensure that it's reputable.