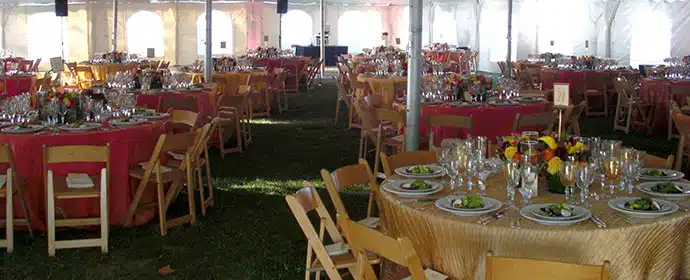 Service and chafing dishes also known as chafers are units that hold the buffet food keeping it at the right serving temperature. They are made up of a food pan, water basin, and heat source. The heat source creates steam that keeps the food warm. When having a party, you don't have to buy the chafers as you can easily rent them from your local party rentals.
Factors to consider when renting chafing dishes
When renting the units you need to consider these factors:
The size of the unit: Chafers come in different sizes and it's up to you to choose the right size for your needs. Your choices include: full size, round, and a half-size chafing dish.
The source of energy: As mentioned, you need an energy source for you to keep the food warm. You can use fuel or electricity. Your choice should be informed by the type of energy that you have access to. If you are having an outdoor event in an area that is away from the electricity line, you should go for a fuel chafer but if you are having your party indoors or in an outdoor area where you have access to electricity you should go for an electric chafer.
Type of chafer: There are many types of chafers that you can go for. There are round, oval, rectangular, drop in, square and even soup chafers. You should choose a unit that complements the theme of your party.
Cover type: While often ignored, the type of cover on the chafer is a great factor to consider when renting from party supply companies. The units come with many cover types such as lift-off, retractable, hinged, and glass top. When choosing the covers consider how you are going to serve the food. If you want the guests to serve themselves, you should go for units with roll top covers. If there will be servers to serve your guests, go for chafers with lift off covers.
Guide on using chafing dishes
For the units to give you a great service you should use them properly. One of the things that you should do is ensure that the water remains in the pan throughout the time that you are using the dish. You should also occasionally stir the food to prevent it from burning. To have a great experience ensure that the chafer that you rent from the serving pieces rentals is of high quality.