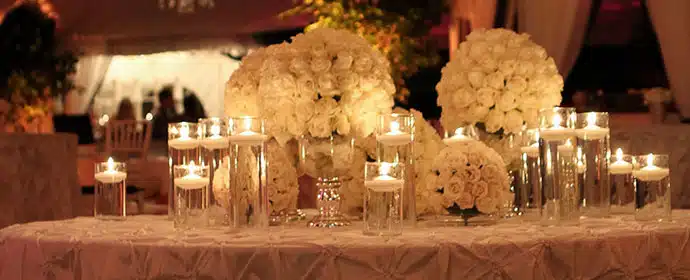 Decorating table for parties beautifully contributes a lot to the success of any party. For any type of party, table decorations play a significant role in the overall appearance of the environment. Use fun event décor ideas for theme parties to add a great deal of personality to the event. Make sure to focus on the table décor to give the best set-up to your party.
Table Coverings
Fine cloth linen demonstrates a comfortable sense of class and style to cover every table. Linen and décor for weddings add a rich appeal to the event. Table runners can be added across the round tables and colorful or designed covering can be used for theme parties. There are many different types of table coverings available at party rentals with images imprinted and can be used for various purposes. Bright and chic colors may be used to add flair to a casual event and enhance the overall look of the venue in a tremendous way. You can also rent table covers, runners and overlays from party supplies store.
Decorative Centerpieces
The use of different types of decorative pieces and floral arrangements helps to enhance the look of any event. The different items can be used for centerpieces according to the theme rather than just using standard flower centerpieces. Be innovative and choose items according to the theme. Even casual events can be made interesting by using fun bowls of candy or coffee beans. Candles are also a good way to decorate the table and make everything look appealing.
Table Settings
Fine porcelain or China with silverware set on folded cloth napkins adds a polished touch to the entire table decorations. This makes your party more cultured. Parties with a theme have plates and napkins according to the colors and designs used in the table arrangements and coverings. The casual party can be planned with simple coffee mugs and plate settings appropriate for the buffet and bar service. Such parties also use brighter colors for place setting pieces and co-ordinates best with rest of the table décor. Overall, giving final touches helps to seal the decorations and create best table settings to make it really special for everyone.
So, discuss with other production members to gain insight into decoration and production and staging rentals. Event planners always have visual images of what they're planning to achieve or certain moods aiming to evoke. Make sure to make some efforts and collect some pictures of similar events online and share them with other production members to get a perfect setting as you desire.