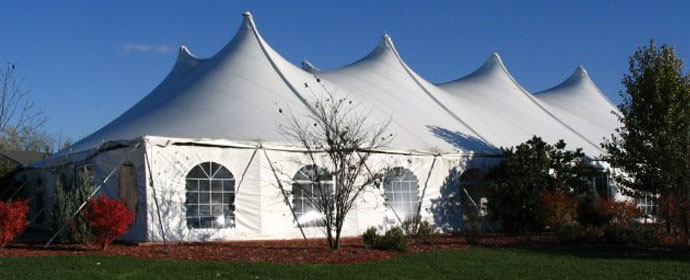 While planning any outdoor wedding, there are several things that play an important role starting from the weather conditions to the decor. Party tents are the most preferred choice of protection during any event. No matter whatever you choose, it is best to have a sheltered location especially if it seems that weather would be unfavorable to make the event successful. There are several methods to use for the decoration of the tents. You can sew or buy a fabric tent liner to create a decorative piece of shell inside the tent. Fabric can be cut into panels and spaced evenly across the tent as decoration.
Canopy
A canopy provides an option to make the venue more open in outdoor arrangements. The availability of different size of canopies can be arranged. The canopies are available in light fabric such as tulle or organza. Try to choose between the wedding colors or white. This feature allows to choose between a rectangular shape or circular sitting arrangement under round tables. The use of canopy also provides of decoration to the venue.
Pergola
Pergolas are basically wooden structures made to protect an outdoor area. Such structures allow to hang lights and decorations. You can create your own pergola or choose a location on rent. In some circumstances, there are several choices to cover the structure from unfavorable weather conditions. This facility also provides a backup when things are not as planned. Use beautiful linen and décor for weddings to give an attractive look.
Gazebos or Covering Vines
Some of the wedding venues have built gazebos so that guests can plan an outdoor event without any worries related to environmental conditions. This gives the event managers complete peace of mind. Some of the wineries have built gazebos from growing vines up. This can be decorated with the help of colorful balloons and different types of lights, production and staging rentals.
Parasols
The use of umbrellas seems to be the best choice for sunny wedding venues. The parasols help to offer shade and protection to your guests. During the event, divide the tables and cover with parasols for decoration and protection from weather conditions. In such type of wedding arrangements, staging and dance floor is usually in the open and you can use a canopy over the floor to add flair to it.