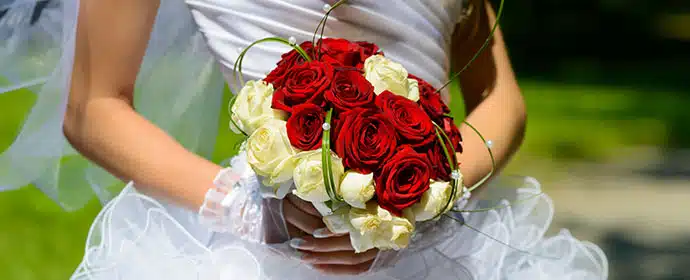 The beach is a romantic backdrop thus a great place to have your wedding.  For you to have a great beach wedding you need to consider a number of factors:
The comfort of your wedding guests
This should be the first thing to consider as choosing the wrong location would result in most of the guests leaving. Beaches are usually breezy but you can reduce the breeze by choosing an area protected from direct winds. If the event will be short the guests can stand but if it will be long or there will be plenty of elderly people, you should get rental chairs from the local chair and table rentals. It's rare for people to have tents in a beach wedding but if the sun is too hot and the event will be long, you should consider renting them from reputable tent rentals. All you need to do is ensure that they complement the beach theme.
Wedding food
There is no great wedding without food. You can buy already prepared food from the beach restaurants or prepare it on your own. If you have time, you should hire professionals to prepare the food at the beach. This is not only romantic, it also ensures that the food is fresh and hot. In keeping with the beach theme, you should prepare seafood. This calls for you to hire professionals experienced in preparing the meals.
People are allergic to different types of seafood; therefore, you should always take the time to ask the guests the type of foods they want in order to avoid problems. When hiring a catering service provider, hire one with the all the necessary equipment needed in the preparation and serving of the food. This saves you money as you don't have to rent any equipment from kitchen rentals.
Dress code
Due to the sand and hot sun you should be cautious of how you dress. As rule of thumb dress in a comfortable so that you are able to easily walk on the beach. Instead of wearing heels like it's the case with other weddings, go barefooted. When it comes to the wedding dress, go for a simple dress that isn't too long.
Conclusion
The beach is one of the most romantic and best places to have a wedding and timing is of great importance. For a great experience have your wedding during the early part of the day or late in the afternoon. This is to avoid the hot sun. Also, be cautious of the tides. To avoid the tides spoiling your day, ensure you are far away from the ocean. To have an easy time with the planning, work with wedding party supplies companies that will help you with the planning and also supply you with the equipment you nee