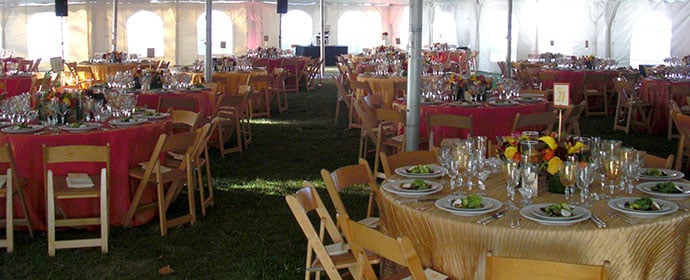 Food is an important part of any wedding. The cool thing is that there are many ways of serving food. Here are some of the ways of doing so:
Plated wedding party service
It's the most formal style of serving food and ideal when you are having an elegant black tie party. To ensure that you prepare the right meals for everyone, ask the guests to let you know their meal choices before the wedding. Since you know the exact number of people that will be attending the party, you to rent the right number of serving and chafing dishes.
While this style is great as it ensures that everyone eats what he/she wants, it takes time as you have to serve every course separately to each guest. If you have many guests, it's impossible for your friends and relatives to help you out. You have to hire extra labor from the wedding rentals.
Buffet wedding party service
The buffet style is an informal style that provides a relaxed atmosphere for your guests. You provide a large number of different foods for the guests to choose from. The guests also choose the portions that they want to eat. This style is ideal when you are having an informal backyard wedding. Since you don't need a waitstaff, it's cheap to organize a buffet style. While this style is great, it can be problematic when you have guests that don't like being "called up" to peruse the buffet. The style is also not ideal when you are having a formal wedding.
Homestyle wedding party service
This style resembles the buffet style but the guests sit at different tables and provide a given amount of food at each table. Unlike the buffet style, here you need to prepare more food. You also need a few more people to help you serve the guests. Since the food and plates have to be passed around, the guests have an opportunity to interact and enjoy each other's company.
When you are planning the seating arrangements you need to be careful and ensure that you don't place people that don't get along on the same table. Also, ensure that you have enough serving dishes for all the tables.
Conclusion
These are some of the different ways of serving food in a wedding. For ideal results ensure that you work with reputable party rentals that will not only provide you with high-quality party supplies but also provide you with experienced professionals.