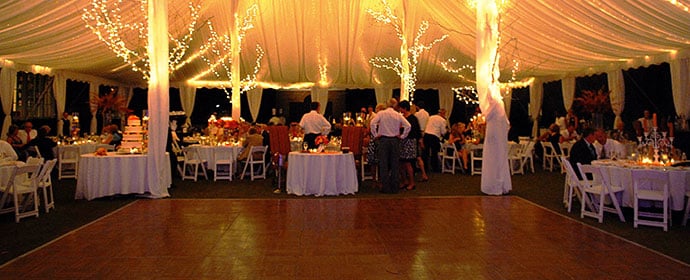 For your wedding to be beautiful you need to decorate it. Here are wedding decoration tips that you should consider:
Have a plan for the wedding venue
There is nothing that gives your wedding a bad image than a disorganized wedding venue. You should have a clear plan of where to place the reception area, DJ's booth, kitchen area, cake table, dance floor, cocktail table, and any other wedding party supplies that you might be having. If you can't come up with your own plan ask a professional to help you out.
Follow candle rules in your party decorations
Candles are great party decoration items. In addition to giving an intimate glow, they are also cheap thus ideal if you are operating on a tight budget. While the units are great they pose a fire hazard especially if there are plenty of papers on the wedding venue. To be on the safe side use battery-operated or LED candles. As rule of thumb use colors that complement the wedding theme.
Watch how you use flowers in party decorations
Flowers are the most common units used as party decorations. While they are beautiful, they can get expensive especially if you are decorating a large area. Instead of spending plenty of money on flowers, consider including some branches or greenery and you will save plenty of money. For a dramatic look, set the centerpieces on a pedestal or platform.
Intelligently use lighting to decorate the wedding venue
Lights are easy to use and instantly change the look of your wedding venue. For a great look, you shouldn't use them anyhow—you should be intelligent in using them. For ideal results use automated controlled stage lighting where you use different shapes, movements, and colors to create different moods in the wedding venue. The cool thing is that you don't have to buy the lights as there are plenty of party rentals where you can rent them from. To make the venue more interesting use other decoration items such as plants in addition to the lights.
Take advantage of party decoration fabrics
Just like candles, fabrics are cheap and easily available from linen and décor weddings rentals. They come in different sizes thus you have different ways in which you can use them. You can place the fabrics on the ceiling, party chairs, tables, and on the walls. When using them ensure that you use those that complement the wedding theme. They also should be of high quality to avoid giving your wedding a cheap look.