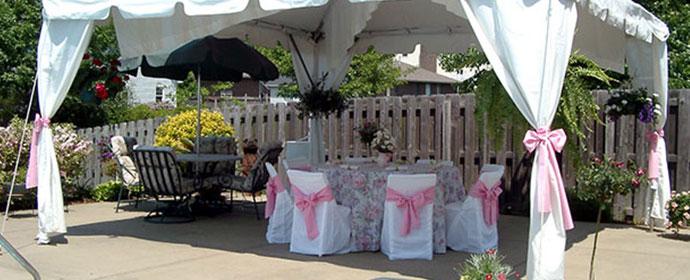 When people are doing weddings they go for rental chairs. The unfortunate thing is that the chairs come in different colors and designs which makes them unsightly.
To give the chairs a uniform look and have a strong appeal you should consider covering them with chair covers. The covers are usually rented separately from the chairs thus you should expect to dig deeper into your pockets in order to get them from a party rental company.
Tips when using the chair covers
For the covers to give you the look that you need, you need consider a number of tips:
Go for linen covers: chair covers are made from different materials, but you should ignore the ones made from other materials and go for those made from linen. Linen covers are not only great to look at, they are also easy to clean in the event of spills which are very common in parties.
When you rent covers made from other materials you may be forced to hire a cleaning company to clean them for you. If you have to clean them by yourself you will have to do extra work to give them a clean look.
Style and color: when you are doing your wedding you have a mental picture of the wedding that you want. Since you do a wedding only once you should not have anything less of what you have always wanted. When it comes to the style and color of the chair covers you should do your research and find a rental company with the covers you want.
For example, if you are interested in long covers, you should put your effort into finding the company stocking the covers. To save money, it's wise that you rent the rental chair covers from the same company that you rent the chairs.
Accessorize the covers: while the covers are already great to look at, you should add color to them using accessories. There are a number of accessories that you can use. The most common ones being: bows, flowers and ribbons. You can use one of the accessories or a combination.
Conclusion
These are tips on how to make the most of your rental chair covers. When renting the covers you should be keen and ensure that you rent from a reputable wedding rental company. This way you are guaranteed of not getting scammed or encountering hidden charges. You are also guaranteed of getting high quality covers.