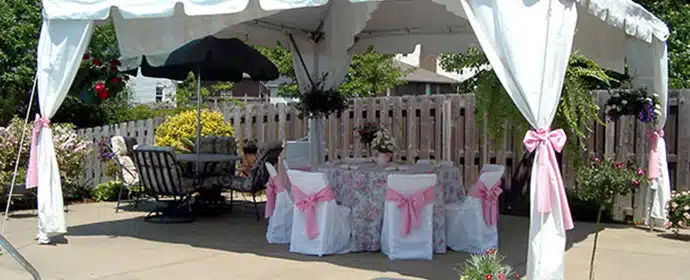 To create a light, fun environment you need to decorate your party chairs. Here are some of the ways of decorating the chairs:
Spider webs
Are you having a Halloween themed event? Spider webs are a great choice. You should buy fake spider webs from a party store near you. There are some party rental companies that rent fake spider webs for a small fee. If you don't a large budget you should visit a party rental company near you.
There are many ways in which you can decorate using the webs. One of the ways is putting the webs through the back supports of your chairs and then linking them to your wall. You can also create one massive web along a row of chairs.
Spider web decorations are ideal when the guests sit on the chairs for only a short while. Note that even fake spider webs can get sticky; therefore, you should avoid placing them on chairs that the guests will sit on for long.
Party chair ribbons
Ribbons are easily available and give your chairs a nice look. There are many ways of decorating your chair rentals with ribbons. The most effective ways include:
Ombre style: in this style you tie the ribbon strips on the sides of the chair and then wrap them in such a way that they meet in the back. For a great look you should create a visual of colors from dark to light. You should ensure that you choose a color that matches your theme color.
Woven: woven ribbons give your wedding chair a woven, beautiful effect. To enhance the visual effect choose ribbons of different widths, textures and designs. You can weave in a horizontal, vertical or both horizontal and vertical styles.
Trailing: the trailing look is free flowing. All you need to do is to tie ribbons at the back of the chair and allow majority of the material to trail down creating the trailing look. To make the effect interesting you should choose ribbons of different textures, widths, and colors.
Chair rental covers
If you don't want to go through a lot of trouble decorating the chairs you should simply get party chair covers. There are many party rental companies that rent the covers at a small fee. For a great look you should ensure that the covers match the party's theme.
To attract discounts and ensure that the covers perfectly fit your chairs you should rent them from the same chair rental company.