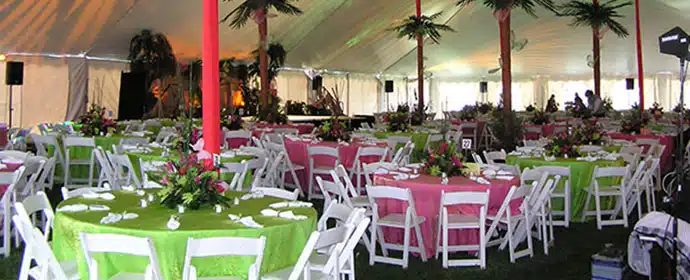 To pull off a great wedding and corporate event you need to be keen and operate on a good budget. Unfortunately, not all of us are fortunate to have money to throw an expensive event. Even if you are operating on a tight budget there is no reason why you can't have a beautiful event. To help you out here are cheap event décor ideas that you can borrow.
Decorate glass and Stemware
Whether you are putting together a formal or informal event you will have glassware. You could own the glassware or you might have rented from party rentals. You can add life to your party by decorating the wine bottles, water glasses, and wine glasses. Decorate the glasses using spray paint or sticky glitters. When it comes to wine bottles, cover the neck with shiny textile or paper ribbons.
Pay attention to party chairs
Gone are the days when everyone used the same traditional party chairs. People are now going for unique party chairs. If throwing an informal wedding, you can use haystacks. To make haystacks different and comfortable use brightly colored cushions. If having a corporate event or formal wedding, go for contemporary chairs from party supplies companies in your area. If the chairs don't have a great look, consider installing chair covers on them.
Don't forget party tables
For corporate events and invite only wedding parties, the sitting position and arrangement around the table matters. The easiest way of decorating the tables is using table covers. As rule of thumb ensure that the covers match the theme of the event. In addition to covers also consider including colorful table centerpieces. The centerpieces can be fruit baskets, plant bottles, lit candles and flower vases.
Make use of Fruits and vegetables
When shopping for party supplies throw in fresh fruits and vegetables. Best place of placing the fruits and vegetables is on reception tables. Arrange the fruits and vegetables nicely in elegant bowls.
Parting shot
These are ideas on how to decorate your party. As you have seen you don't need to spend plenty of money to have a beautiful event. When renting rental chairs, tables and covers, ensure that you rent them from a modern and reputable party rental company. To save money and time rent the decoration materials from the same rental company.