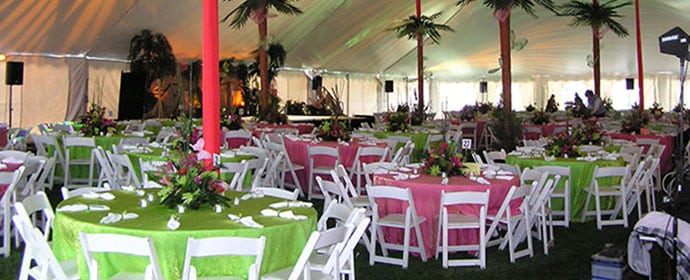 You need table linens to decorate your table. If you don't already have the units, you have to rent them from your local party rentals. To rent the right units, you need to consider some tips that include:
Rent the right sizes
Different types of tables are used in parties. The most common ones are: cake, cocktail, dinner, and card tables. As you know, these tables come in different sizes, and the last thing you want are them looking awkward. For the perfect look, go with linens of the right size. Before you head to the store, take the measurements of the tables that you are seeking to decorate.
Choose the right colors
The size of the linens isn't enough—you also need to consider the color. As rule of thumb choose a color that complements your reception area. Most of the parties have two or more décor colors. If this is the case, choose linens with multiple colors. Most parties have themes. If you are having one of the rare ones that doesn't have a theme, consider the effect that the linens will have on the environment. Colors that are too dull will give the party an annoying look while too bright colors might be unideal for the occasion. If unsure of the right color to go with, ask a professional to help you out.
Rent from the right rental company
There are many party supplies companies where you can rent your party linens, but few are good for you. To find the right company start your planning early enough. Experts recommend that you start the process at least 3 months before the day of the party. During this time visit the various local companies and see what they have. The companies should have the exact linens you are looking for regarding quality, size, and color.
While doing your research, also take a look at the working policies. Some companies will require you to clean the linens after using them while others won't have a problem with you returning the linens dirty. Work with a company with the best policies.
Conclusion
These are tips to consider when renting party linens from rental companies. To save money, time, and get the right linens, rent both the party tables and lines from the same rental company. All you need to do is to ensure that the business is reputable.