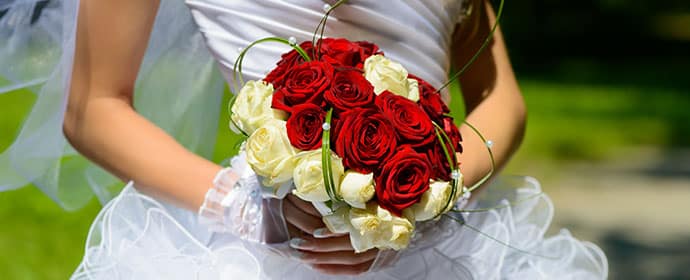 Nobody wants the wedding reception site to look plain and bare. Unfortunately, premium wedding decorations can cost you a lot of money which most of us don't have. The cool thing is that there are a number of cheap event decor ideas that you can go with. Here are some of the decoration ideas that you can go with:
Decorate the wedding venue with wedding Bouquets
One excellent decorating idea is to use wedding bouquets for table decorations.  All you need to do is place the wedding bouquets on the wedding table. For ideal results ensure that the bouquets match the wedding theme. For an interesting look, go with bouquets that are similar to those being carried by the bridesmaids. You can buy the bouquets or rent them from party rentals.
Use fruit bowls for wedding decoration
To decorate your wedding with fruits you should get fruits that are brightly colored and place them in bowls at the center of guest tables. In addition to  looking great, bouquets also serve as excellent appetizers. Great fruits to go for are: limes, lemons, and oranges. To give them an interesting look cut them into wedges and fill them in a tall vase.
Make use of lights as wedding venue decorations
You can use the lights near the dance floor, in greenery, plants, near tables for extra lighting, and in any other place that you want. All you need to do is be creative in how you place them.  You can get the rights from neighbors, relatives, and friends. Wedding rentals also stock good quality lights that you can rent at a small fee.
Decorate the wedding venue with party portraits
Here you need to put framed photos of you as a couple on the guest tables. The photos give the guests something to talk about. You also save money as all you need to do is create the photos. For a great look, use a different portrait in each wedding table. As rule of thumb, ensure that the portraits match the wedding theme. If the theme is formal, go with formally framed portraits and so on.
Use  Candles as wedding decorations
Candles are probably the easiest way of adding mood to the wedding venue. Candles  give an aromatic frame that is pleasing to look at.  You can place the candles on the tables or hang them on the walls. When using them be cautious that you don't start a fire. When renting the candle holders or any other party supplies rent from a reputable company.